Elementary Classes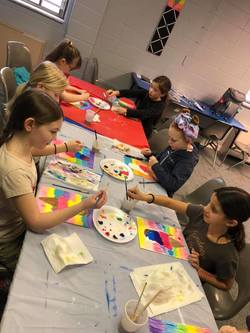 CHEB offers elementary and preschool classes in a co-op model for our members. You must be a current member of CHEB and home schooling full time in order to participate in our elementary co-op.
Elementary classes meet on Monday afternoons and for 14 weeks in the fall and 16 weeks in the spring semester. Children age 6 by August 1, through 5th grade are invited to attend. The courses are determined by the leadership each year based on available teachers and there is not an option to choose specific classes.
Our elementary classes follow a true co-op model, so parents are expected to be active weekly participants. Our teachers are fellow parents, and we pay them a $15/class/student fee in addition to modest supply fees. Every family is expected to contribute time as a teacher's helper on a rotating basis.
Preschool class is only available to CHEB members with siblings enrolled in classes. Our preschool class is meant to be a service for the parents volunteering in other classrooms rather than a stand-alone preschool program.